Home Office Design Ideas for A Better Work-From-Home Environment
A bathroom remodel is perhaps the most expensive per-square-foot renovation project you'll take on! It requires virtually every type of trade professional (from plumbers and electricians to carpenters and tile installers and everyone in between!) and has more detail and finishes per square foot than any space in your home.
In today's market, a small bathroom remodel can cost between $35,000-$45,000 and a master bathroom remodel will certainly cost more. So where do you start when deciding to invest in your bathroom remodel, and how do you ensure a quality finish? The answer is: everything starts with a good designer and a timeless design.
Design should be timeless – you can't remodel your bathroom like you can change your wardrobe. But it should also reflect your personal style and maybe even incorporate a few fun trends that are easy to change as time goes on. A few dos and don'ts for your bathroom remodel project are listed below: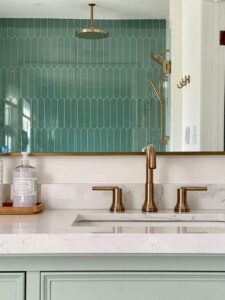 DO select a tile that is timeless and neutral.
A simple white subway tile and a marble or mosaic floor will last forever and can be complemented by a variety of fixtures and colors.
DON'T include too many types of tile in your bathroom remodel
Less is more with bathroom tile and you want a neutral background that you can work with for a long time and design around as your color preferences or styles change a bit.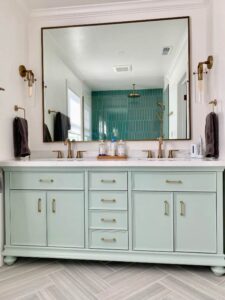 DO make sure you have enough storage in your bathroom
Drawers in your vanity cabinet, open shelving over a toilet, and small linen closets are critical to the functionality of any bathroom.
DON'T select vanities that are too big for your space
You still need room to move around in that bathroom! Narrow-depth vanities are available and floating vanities with a custom shelf underneath for storage are available through cabinet manufacturers.
DO have fun with some wallpaper, open shelving, or luxe trim on the walls.
Express yourself and make your master bathroom remodel or small bathroom remodels pop! Incorporate wainscoting, wallpaper, open shelving, color, and artwork to make this space your own.
DON'T scrimp on lighting or exhaust fans.
If your master bathroom is large enough, you should consider two exhaust fans. And never scrimp on lighting – you just can't have enough in a bathroom. Lit mirrors, sconces or vanity lighting, and overhead lighting all make the space brighter and more welcoming. Don't forget the dimmers though for those quiet candlelit soaks!