Window Design & Installation Service
At Kendall Design + Build we are proud to be certified Pella window installers and dealers. If you're looking for exceptional windows for your remodeling project or just need an update, we'll help you pick the right windows for your budget, style and space.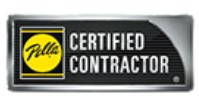 Pella Windows Customized for Your Home
No two houses are exactly the same – that's why our windows offer you total customization and a variety of style options to fit your home's aesthetic. Pella offers some of the latest technology, styles and finishes when it comes to your windows. If you're looking for new windows in the Royal Oak, MI area, contact us today to start the process.
Window Shopping? Here's How We Can Help...

Work with Our Design + Build Team
We'll work with you to reimagine your home's windows. New windows improve the energy efficiency and overall value of your home and make your home a much more pleasant place to be. Share your vision with us and we will help you bring it to life. Our professional design team can help you with every detail of your window needs - and may have ideas you've never thought of!

We'll Place Your Window Order
We make it easy to buy Pella windows directly from us. If you already know what you want and have design and construction covered, we can place your window order and arrange for professional delivery.

Already Have a Team? No Problem...
If you're already working with a contractor or designer, we'd love to collaborate with them. Getting you windows you'll love is our ultimate goal! Please have your contractor or designer reach out and we'll be happy to provide a quote for new windows.