Home Office Design Ideas for A Better Work-From-Home Environment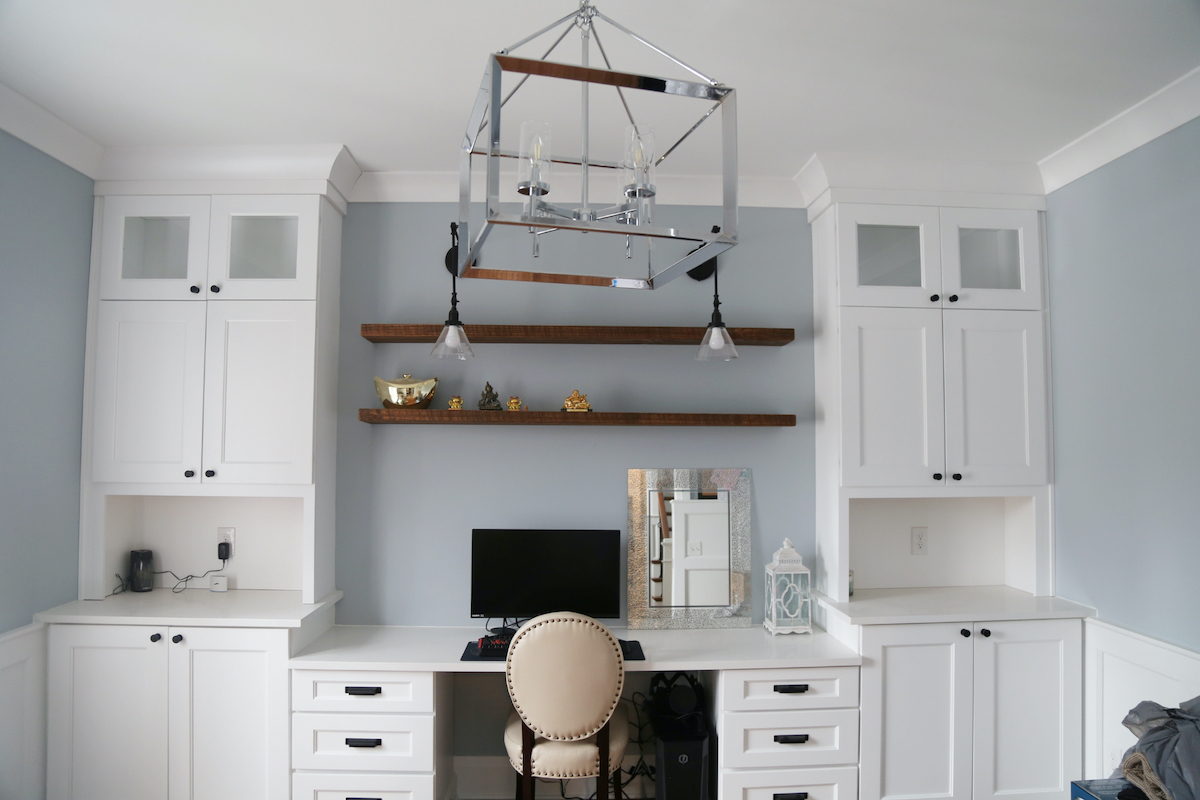 Looking for home office design ideas? Amid the ongoing pandemic, more and more people are choosing to work remotely rather than go into the office. While this may be a blessing to some, working from home can be tricky and stressful if you aren't prepared for it. A big part of being productive is having the space to focus (and moving your stuff on and off the dining room table between meals isn't helping!). What better way to focus than by designing your very own office for optimal results? Hone your skills in a space you love.
Here are 5 ideas for your New Home Office Design:
Everything Has a Place
Utilizing built-in cabinetry is a great way to give yourself a designated space to work in and provides plenty of storage for miscellaneous household items. A clean space will keep you on track throughout the day. Say goodbye to clutter and say hello to wrapping up early.
Art it Up
Don't know what to do with the extra space on the wall? Turn it into a gallery wall. This is a super chic and easy way to make your office pop. Surround yourself with your favorite pieces and stay inspired.
Make the Space Yours
You're going to use this space almost daily, so make sure it's a color you love! A zen color scheme will keep you calm and focused all day. Or add some pizzazz with a bold accent wall or print wallpaper to keep your brain stimulated for great ideas.
Brighten Your Day
Never underestimate the power of good lighting. Don't be consumed by the blue light of your computer screen- balance it out with a classic chandelier, or sconces to elevate and brighten up the room (literally!).
Keep it Classic
Neutral and minimal décor will help tie the space together without looking cluttered. Give it that clean, crisp, and classic look. Make sure that you and your new office are built for success! Need help reinventing your workspace? We can help make your dreams a reality.
Conclusion
If you are looking for someone to design and build your new home office, look no further. To start, Kendall Design Build has an outstanding reputation. Also, we truly care about your need and vision. To conclude, We will stop at nothing to work hard for you. As a result, we'll make sure your dream becomes a reality. Remember, our team of professionals is always ready to answer your call. Renovating your kitchen can be a hassle. We here at Kendall Design Build are your trusted professionals for even your biggest projects. Contact us today about your next home office remodel.