A Traveler's Dream Home
The first-floor renovation completed in Berkley, MI is one of Kendall Design + Build's favorite projects to date. When brainstorming for renovation ideas, the client really wanted to focus on creating a rustic-modern design with global touches, because the homeowners are world travelers.
When you first walk through the door, you automatically are welcomed with European art pieces and a warm environment. Our designer added burnt orange leather chairs from Arhaus against the windowsill, paired with tall bronze lamps from Pottery Barn. This area is perfect for enjoying a morning coffee or reading your favorite book before bed.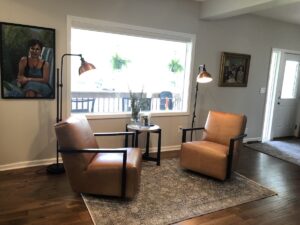 As you enter the dining room, the pieces chosen were a unique black light fixture from Restoration Hardware, a rug from Loloi Rugs and a custom made wooden dining room table from Re.dwell. This dining room is both elegant and relaxing for a perfect dinner night in with your loved ones.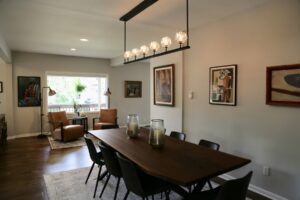 The room that took the most time during the design process was the living room, but it was totally worth it. The clients wanted to put an emphasis on their fireplace, so Realstone Systems designed a custom-made stone fireplace surrounded by a pine green painted wall. With the brand-new bar-cart from Pottery Barn and custom-made pillows by Haberman Fabrics, this spot in the house is perfect to have family and friends over to enjoy quality time and a cozy fire.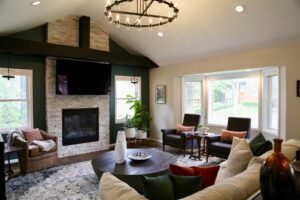 Overall, we were able to turn an idea into a reality for these clients by grasping their vision and "materializing it into something beautiful" as stated by the homeowner. We couldn't be prouder of the finished product!