Third-Floor Transformation: From Clutter to Zen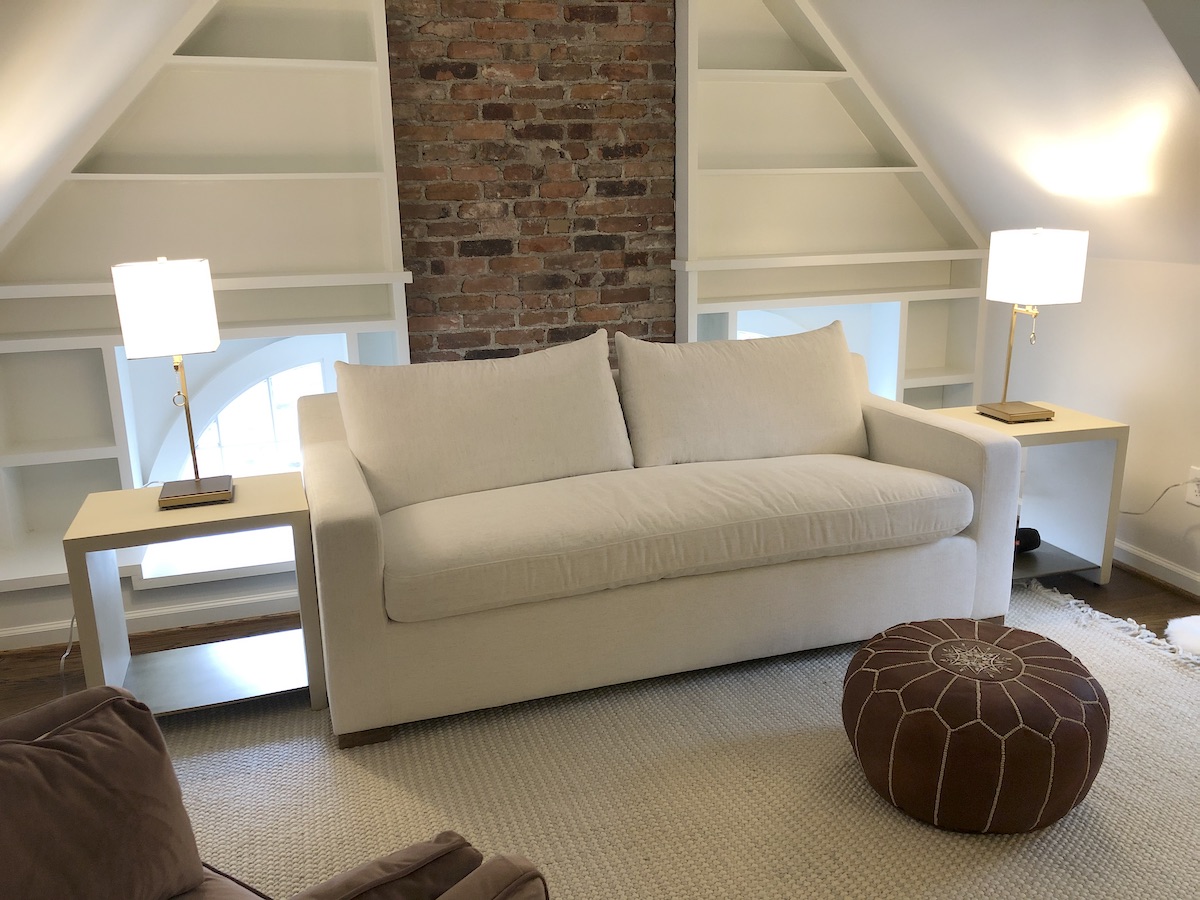 The "Zen Room" we created in Pleasant Ridge, Michigan wasn't always the glamorous third story it is today. We gutted, painted and redesigned the entire third floor from a storage area to a chic hangout spot. We interviewed the homeowner and asked her a few questions about her renovation experience.
Q: What was the construction process from start to finish?
A: The process was pretty simple. KDB's architect drew the attic and their designer selected the furniture, window treatments and flooring. I basically let them lead the way. Options for all were offered and the decision making was made really easy. The final result turned out so much prettier than expected because we decided to re-do the entire level. I wanted neutral colors; white, gold, pink, so it felt cozy and welcoming for guests that stay over and for working from home.
Q: What was the redesign goal for your attic?
A: The original goal for the attic was to update the office and the bathroom. While checking the bathroom's plumbing, our designer and contractors stumbled into the storage room, and they immediately saw the potential, especially with the exposed chimney and eyebrow windows. After that, the scope of the project completely shifted. The main focus was on the storage room, which is now my favorite spot in the house. The bathroom was gutted and completely renovated. It used to only have a tub, sink and toilet and now there is a full shower and tub with a gorgeous new backsplash and floor tile. The office was also repainted and designed with layout and furniture.
Q: What's your favorite feature of the third floor?
A: The exposed brick is my favorite part of the zen room for sure. I also love the chandelier, the pink chair and the meditation cushion, which I use every morning. Lastly, the bathroom tile we picked out for the backsplash of the tub is beautiful and really elevated the room.
Q: How are you utilizing your third floor now?
A: It's a great place to escape and get some alone time, especially when everyone is working from home. Guests can also stay up there on the gorgeous pull out queen couch. We love our new "little retreat!"