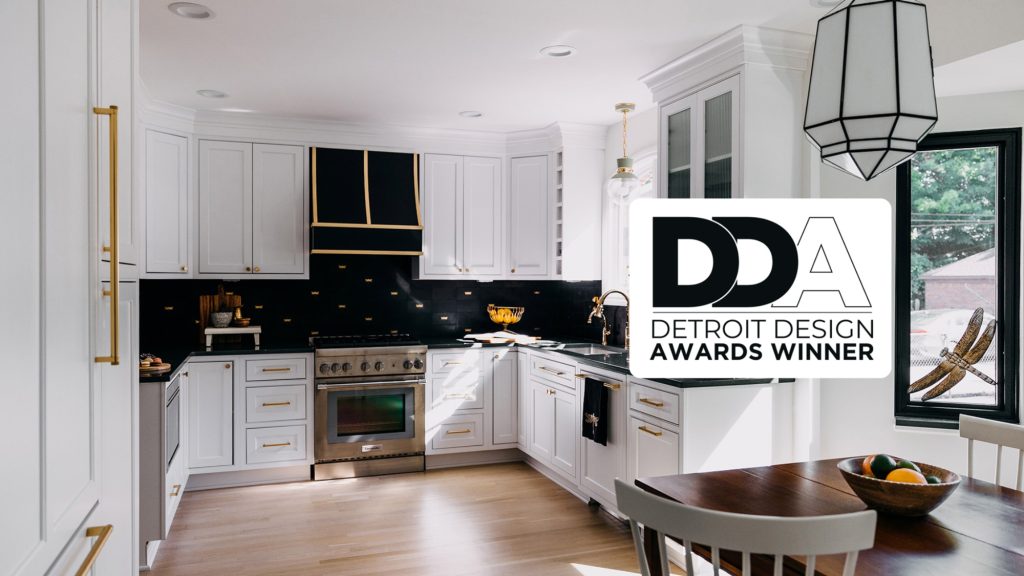 DETROIT, MI – June 28, 2023 – We are thrilled to announce Kendall Design Build's recent success at the Detroit Design Awards. We secured third place in the highly competitive kitchen up to 200 square feet category, showcasing our expertise and creativity in kitchen remodeling projects. The award winning kitchen featured exceptional work on a historic traditional kitchen remodel located in the University District of Detroit.
The award winning kitchen remodel in this classic Tudor home stands as a testament to our team's creativity and precision. With meticulous attention to detail and a keen understanding of our clients' vision, the design department collaborated closely with the homeowners to create a space that seamlessly blends traditional charm with modern style.
"We are honored to receive this Detroit Design Award for our kitchen remodel project," said Terri Bailey, owner of Kendall Design Build. "Our team worked tirelessly to transform this kitchen into a true masterpiece, incorporating high-quality materials, exquisite finishes, and impeccable craftsmanship."
No expense was spared in this kitchen remodel, as we aimed to create a space that exuded both sophistication and livability. The kitchen boasts inset custom cabinetry, adding an element of elegance and functionality. Panel-ready appliances seamlessly integrate into the design, ensuring a seamless aesthetic flow throughout the space.
A soapstone-style quartz countertop became a focal point of the kitchen, offering a durable and visually striking surface. To infuse a sense of lightness and a touch of contemporary flair, the design team chose a white oak stain for the floors. This choice created a beautiful contrast against the traditional elements, elevating the overall ambiance of the room.
One of the standout features of the remodel is the dramatic range hood, which serves as a striking centerpiece. The encaustic tile backsplash, adorned with gold-filigree accents, adds a touch of luxury and personality to the space. Exquisite period lighting fixtures were carefully selected to enhance the overall aesthetic and create a warm and inviting atmosphere.
The kitchen remodel executed by our team at Kendall Design Build not only meets the functional needs of the homeowners but also captures their fun and casual lifestyle. By striking the perfect balance between timeless elegance and contemporary design elements, we've created a kitchen that surpasses expectations.
This recognition at the Detroit Design Awards is a testament to our exceptional work in every project we undertake. With a portfolio of exceptional remodels and a commitment to client satisfaction, we continue to solidify our position as a local leader in the home remodeling, design and renovation industry.
For more information about Kendall Design Build and our award-winning projects, please visit www.kendalldesignbuild.com.